Well whew! This morning marks the close of another Acker Night, a family friendly musical feast in downtown Prescott that is not to be missed. Accented with flashing Christmas lights in their hair, hats and clothing, the fun loving crowds make this annual event crazy and infectious. Even I, a self proclaimed antisocial, reclusive person, was persuaded to attend as my husband's videographer for his band Famous in Denmark . It turned out that I had a great time people watching. Unfortunately, I did not get to go out to photograph other bands and people because I did not want to leave all of our cameras and equipment unattended, so you will have to bear with photos and a video of just Les' band this time. (grin)
I can happily attest that the gathering last night was fun, festive and loving. I say loving because, with these crowds, patience is required. I don't know if it is just because of the season or if it is because we live in a wonderful town with very kind people. Whatever it is, last night was so incredibly enjoyable and, yep, this is coming from me – a lady who does not like crowds at all.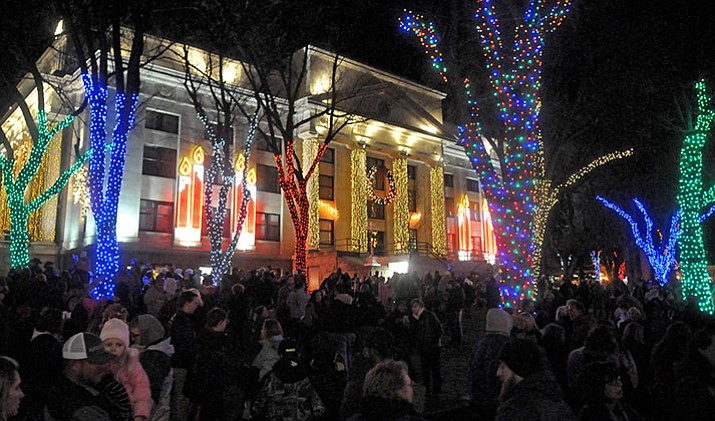 Acker Night is free. It is kind of like a walking studio tour through all of downtown Prescott. Instead of artist's studios though, you will walk into a huge variety of cute and cool stores to watch musicians perform. The stores stay open late and judging from the multiple bags of goodies that many people were carrying, it is also a great time to come downtown to do your Christmas shopping as well. Each store features select performers where the music ranges from classical, to folk, to soul to funk to rock and, well, to EVERYTHING music.
Each location has donation bags where people leave "tips" if you will. It all goes to the Acker scholarship fund to be collected at the end of the night. In fact, the entire non-profit event is put on by volunteers. From the administrators to the store owners to the musicians to the performers, everyone pitches in for free to make this a night to remember.
The fun starts early in the day with shopping and eating, of course. 5:00 PM marks the opening ceremonies including a performance from the Prescott High School Choir. Then, all night long, Santa roams the streets to take pictures with you. Hmmm…the roaming Santa sounds kind of creepy, LOL, but it was fun seeing some comedic type folks posing and taking selfies with him. At 5:30, the musicians promptly start the rest of the evening's fest. They play continuously until 8:30PM. Then they get to break down while the guests get to continue their shopping and partying.
How the heck did Acker Night start anyway? Here is a quick run-down on the history from the Acker Night Facebook page.
"When Mr. Acker died in 1955, he left a number of parcels of land to the City of Prescott, to be used for parks and music programs for ​children.​​​​​
In 1988 Prescott resident LaVon Anderson ​who was a strong advocate of children's music programs herself, had a dream to mesh music and Prescott's historic downtown together in a memorable event.
Music and the Christmas holidays was a natural pairing and she used that marriage to spearhead the J.S. Acker Musical Showcase in December 1988. The J.S. Acker Musical Showcase was quick to take off. The December event now features over 135 Prescott downtown businesses with over 400 musicians and performers donating their time, talent and businesses for this event. ​​​
From 8 performers in 8 shops in 1988 to over 400 performers in over 130 shops today, Acker Night has become one of Prescott's most beloved events. "
Suggestions for when you visit Prescott for Acker Night next year:
Dress in layers. It can be chilly to freezing here in December.
Be patient. It will be crowded.
Check out the Acker Facebook page. They have programs and schedules so that you can mark off in advance what you want to see.
Prescott has lots of bars, bakeries, food and coffee houses that stay open late for the event, so you don't have to worry about bringing anything if you don't want to. I did bring two bottles of water, but that's it.
Come early enough to find parking. We have a new, large parking structure downtown, so check that out as well as street parking. If you do not want to park downtown, there are shuttles running from Augie's at Frontier Village where there is a ton of parking.
Bring cash in case you want to donate to the non-profit.
Finally, enjoy yourself and clap loudly and enthusiastically for the bands who donate so much of their time and energy to further the cause of musical scholarships and instruments for the youngsters.